We assist executive management and owners in building successful businesses and reaching their firm's full potential. Our core strength is to help in understanding market and operating environments, making and implementing strategic decisions, improving corporate and organizational performance, executing transactions and integrating acquired businesses.
Employee recruitment
Steps in the application process
Get in touch
Contact Aleksi by phone or text message. Let's briefly go over your background and why you want to work at Spring before deciding on what to do next.
Let's meet up
You will meet some of our team members at the office or over lunch. We will discuss mutual expectations of working at Spring in greater detail, as well as your previous experience and potential role at Spring.
Get to know the team
You will meet several Spring people at the office, with whom you will present your skills and abilities, possibly with the help of case exercises.
Welcome to Spring
If both yourself and Spring are confident you are the right addition to our team, you will be approached with an offer to join the company as a permanent consultant.
Close
How can we help you?
We specialize in resolving the most demanding business issues, assisting you in making the most challenging decisions, and securing their execution to completion. Our approach is strongly strategy oriented and combines analytical and senior management / board perspectives in everything we do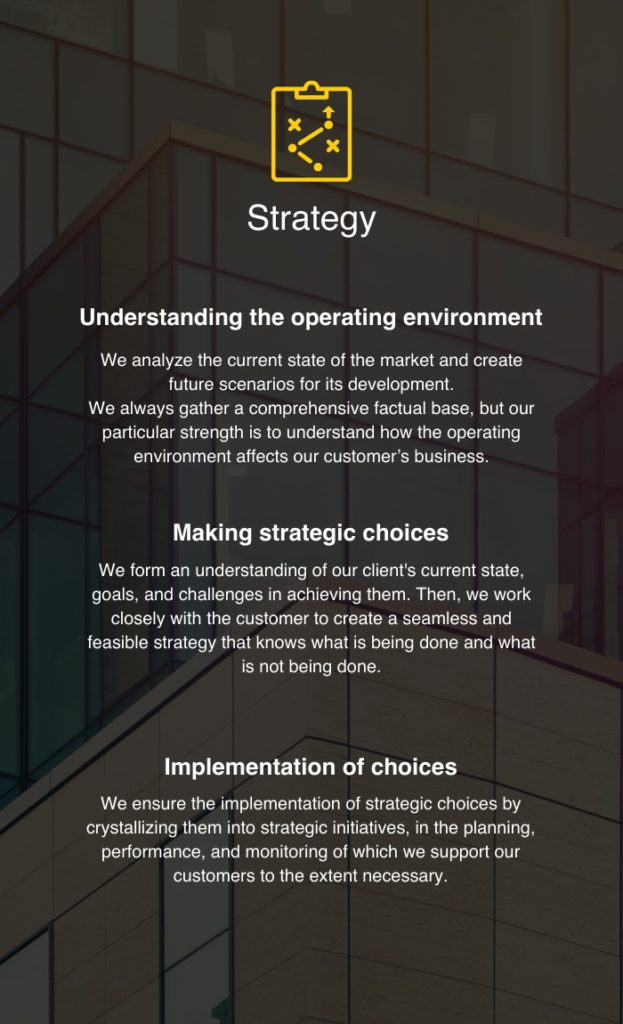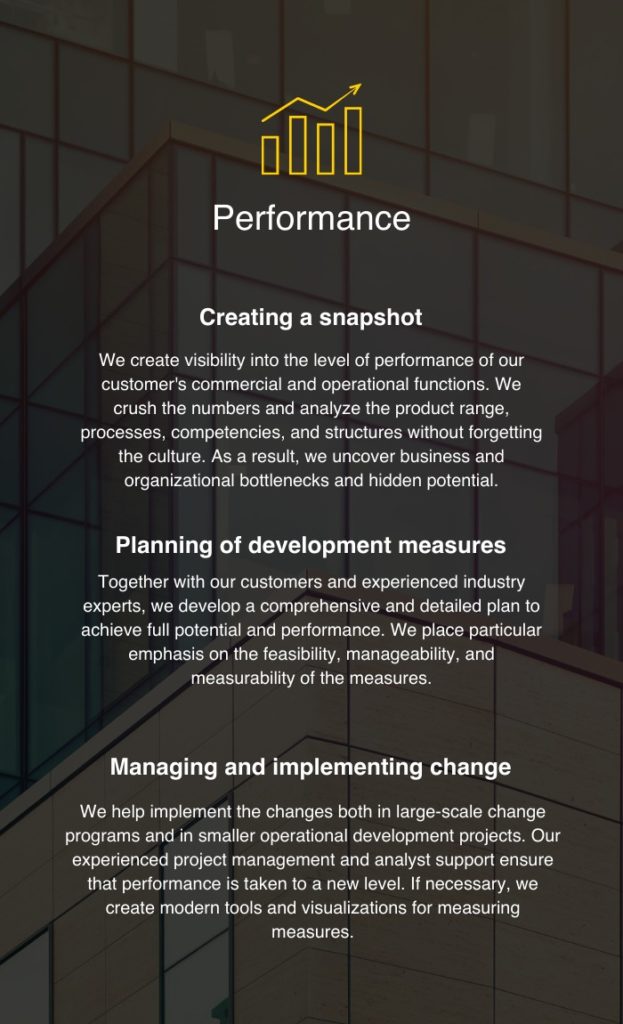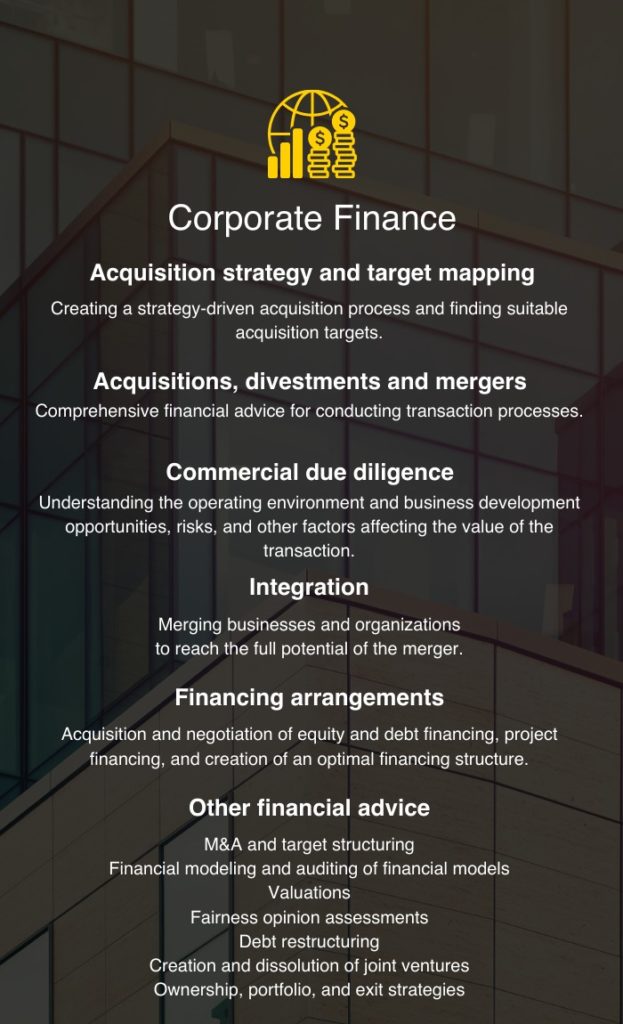 Our customer promise
We recognize that earning our customers' trust when advising in the most critical business issues requires first-class performance. Simultaneously, we want to deflect our customers from unnecessary costs by cooperating effectively and focusing our work on what is truly essential

Uncompromising quality:
Our quality adheres to industry best practices and the highest industry standards

Flexibility and concentration:
We tailor our services to the needs of our customers and concentrate on the essentials while avoiding generic solutions and non-value adding work

Specific outcomes:
Our actionable solutions lead to results – in implementation, we assist our customers in achieving even the most challenging objectives

Likeable collaborator:
Our communicative culture and responsible people lead to effective collaboration, which also contributes to the accumulation of information and understanding in the client organization
How we succeed
The four key pillars, upon which our services are founded, ensure the fulfillment of our ambitious customer promise. From the beginning, we have worked relentlessly to develop these pillars in collaboration with Spring people and our customers
It all starts from the people and culture
We only hire motivated, learning-oriented individuals who are genuinely interested in management consulting and committed to growing with us. Our culture that supports internal motivation and well-being makes us an attractive employer and ensures we fulfill our high-quality standards to our customers in each and every engagement
Competences developed to meet the needs of executive management
We have systematically built a comprehensive set of expertise in strategy, operational development, M&A, analytics, and modeling. Because our consultants are not siloed, we can compile the best know-how needed for each specific assignment
Expertise accumulates
During Spring Advisor's five years of operation, we have completed well over 100 projects for Finland's leading and global listed and private companies, investors, and public institutions. Each project expands our expertise since we systematically gather customer feedback, run an extensive internal feedback process after each project and share critical lessons learnt internally
Company level support guarantees our consultants' performance.
Spring's standard and shared tools and operating models are constantly developed to ensure high-quality results for the customer regardless of the team composition from Spring's side. Our projects are always tailored to the customer needs and we apply our extensive experience to our day-to-day work for example through our standardized quality assurance principles
Spring acted as Outokumpu Energia's financial advisor in the sale of its electricity sales business for Lummen Energia. Through this…