The concentration of the electricity market benefits electricity retail and network companies as well as consumers. In electricity retail, the economies of scale of large companies release pressure from increased pricing, and cooperation among network companies can improve the security of electricity supply to every corner of Finland. Finns stand to benefit the most from this evolution. The retail market is already highly concentrated and this trend is expected to intensify, but cooperation among electricity network companies remains limited. Spring Advisor conducted interviews with electricity network companies on the subject, and the discussions focused on potential areas of collaboration that could result in tangible financial benefits. The question is how to harness these for the benefit of businesses and, in particular, consumers.
In the electricity retail market, it is challenging to differentiate with the underlying product, leading to intense price competition to attract customers. As margins are low, companies need large sales volumes to become cost-competitive, and smaller players must eventually band together to survive. With a 40-45 percent market share, the three largest electricity sellers (Fortum, Helen, and Vattenfall) already dominate the electricity retail market, and this share is expected to grow further. Figure 1 depicts the evolution of the players' market shares by size class. Market concentration and the decline in the number of small businesses have been slower than expected, but consolidation is accelerating. In recent years, many municipally-owned electricity retail companies have formed joint ventures, such as Väre, Oomi, and Lumme Energia. The consolidation of smaller businesses is illustrated in Figure 1 as a decrease of market shares by 2020.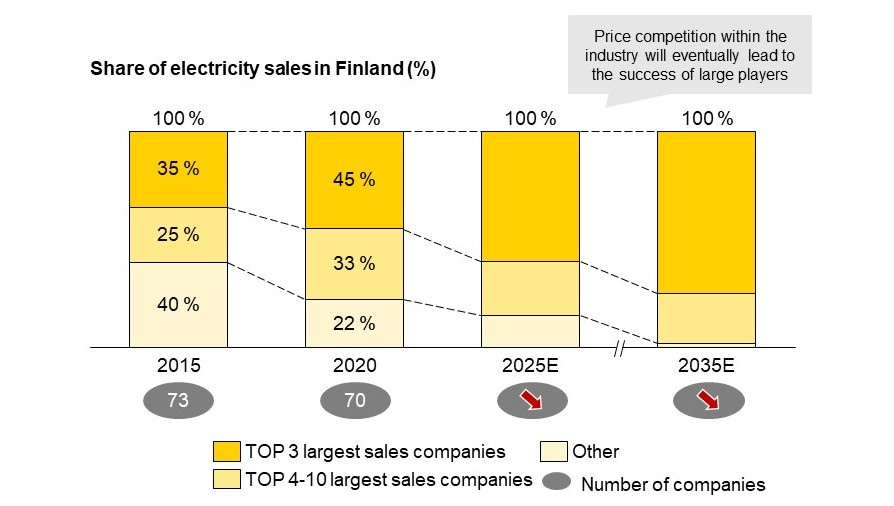 Market concentration will continue in the future, and will eventually reduce the market to the top 3-5 players, as price competition drives smaller companies out of the market. At the same time, even large joint ventures may fail to produce the desired and sustainable outcome because minority shareholders' role in decision-making remains small, while the risk-return ratio and link to their own core business is limited. As a result, joint ventures are viewed as an intermediate stage in market concentration.
There has been no similar development for electricity network companies, but smaller network companies also face challenges in this area. The smallest network companies also account for more than 60% of all (currently approximately 70, 77 in 2019) electricity network companies. The majority of electricity networks are owned by cities and municipalities but there are also a few private equity-owned companies. Figure 2 depicts the volume of electricity network companies by owner type. An urban company refers to a network operating in an urban area with an efficient average distribution volume due to the dense urban structure and population. On the other hand, there is a large number of companies in smaller areas, referred to as the "sparsely-populated area companies," with most of them being very small with average distribution volumes remaining one-third that of urban companies.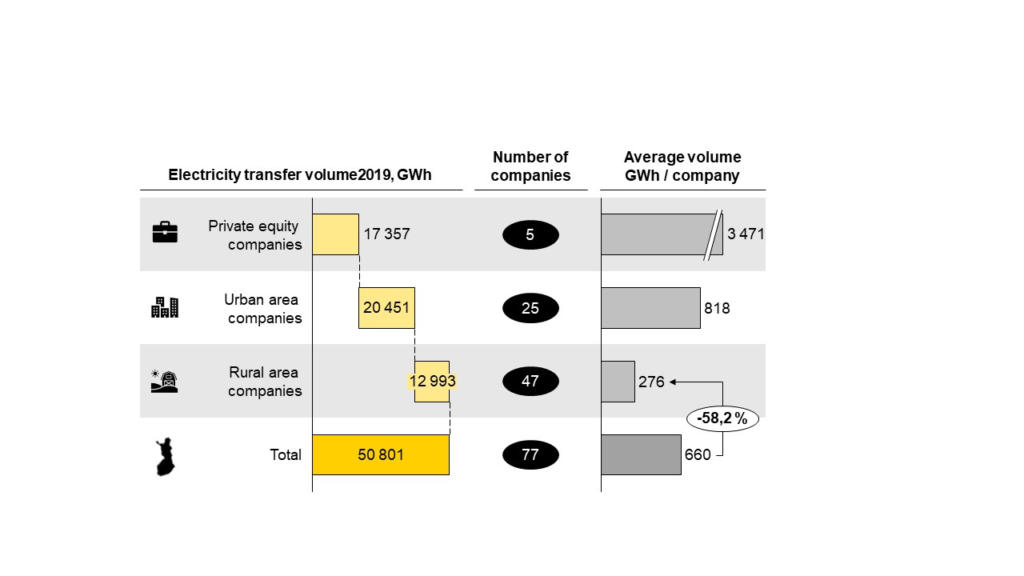 Out of the private equity-owned companies, Caruna and Elenia are clearly the largest companies by distribution volumes (distribution volumes: 7.4 and 6.1 TWh). Only Helen, a city company, falls in the same ballpark (4.4 TWh). Of the companies, for example, Caruna has stated that it is not in pressure to increase prices. The situation for the urban companies is also better than for the sparsely-populated area companies due to the significantly higher average distribution volume. Smaller network companies often operate in areas with few consumption points per network kilometer and high network maintenance costs per customer. This is ultimately reflected in customer prices, as shown in Figure 3.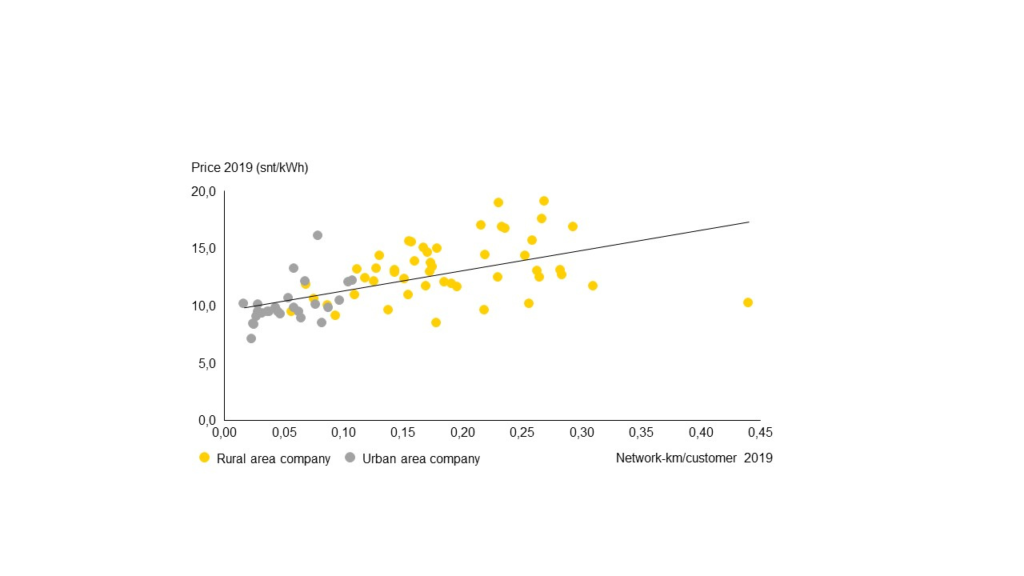 The Energy Authory monitors the condition of the electricity network and the quality of electricity distribution to ensure equal reliability of supply and service levels throughout Finland. However, the Authory also regulates companies' profits and pricing and sets the level for an allowed return for a specific period. Strict regulation causes challenges for smaller businesses because it requires a certain amount of investments although the returns are being limited. However, developing an optimal and equal regulatory model is difficult as companies vary significantly in size and phase of development. Therefore, we propose cooperation between companies as a solution, particularly for smaller companies.
Spring Advisor chatted with network companies on the topic, and the cooperation between companies, especially for smaller companies, was indeed seen as beneficial in easing the burden. Currently, the cooperation is mainly limited to assisting neighboring companies in network maintenance. However, the discussions brought up other forms of cooperation, such as broader pooling of maintenance resources, procurement concentration, and cooperation in innovation.
Traditionally, network companies have collaborated with neighboring companies on network maintenance. However, the demand for maintenance personnel varies greatly, with the most significant demand taking place during storms and strong winds. Increased cooperation, particularly across a larger geographical area, could assist with acute resource needs, as the likelihood of concurrent resource needs is lower between companies in Eastern and Western Finland than in neighboring municipalities.
Procurement concentration is the second and most intriguing form of cooperation among the network companies interviewed. We believe that by jointly procuring network components in larger batches, smaller companies can obtain volume discounts throught better terms, and therefore improve the overall profitability of investments. Combining expertise will also increase procurement efficiency as best practices are spread from one company to the next.
The third type of collaboration identified is cooperation in innovation, as possibilities for innovation work as well as research and development are limited, especially for smaller companies. Collaboration around innovation allows for the sharing of up-to-date information and the use of modern electricity network technology and solutions. Innovation activity is also beneficial from the regulation's point of view through the innovation incentive in the regulation model. Smaller companies should engage in innovation collaboration so that all innovation in the sector is not solely focused on the agendas of large corporations. To implement the cooperation, small companies need to be active in searching for potential partner companies. The cooperation has significant operational and financial benefits that improve also the position of consumers regardless of their residential area.
Source: Energy Authority, Spring Analysis